Posted on 17. Jun, 2010 by John in Tech News
Well its about that time again for all of you to get your Fathers presents they probably don't need. If yours is anything like mine, we have simply run out of things to get him and all he wants is to know that he is appreciated. What better way to do that than with a nice Hallmark card? But, if you do actually want to get him something then you're in luck because we have gone ahead and put together a few gift ideas for you.
The I Screwed Up And Here's My Apology Category
HTC EVO 4G from Sprint $199 after a $100 MIR and a new 2 year contract Order Here
So you are indebted to your Father or you are just very nice. Why not get them one of the hottest new smartphones? Right now the HTC Evo 4G from Sprint for those techie Dads who want to stay up with the times. Dad won't have to worry about carrying around a camera to the family events with the Evo's 8MP camera and HD video recording. He also wouldnt need to buy that new iMac just to get the video chat, he can do that right from his phone.
BlackBerry Bold 9650 available from Sprint for $199 and Verizon for $149
If you aren't an Android fan, and you are more of a BlackBerry user, why not get your Dad the latest and greatest our of Waterloo for your CDMA carrier. While the new Bold 9650 isn't a huge improvement over the Tour, if your Dad is without a smartphone this is a great phone to go with. The addition of Wi-fi, the trackpad and a boat load of app memory make this device a very worth gift that he will be thankful for, for the duration of his 2-year contract.
The Thoughtful Category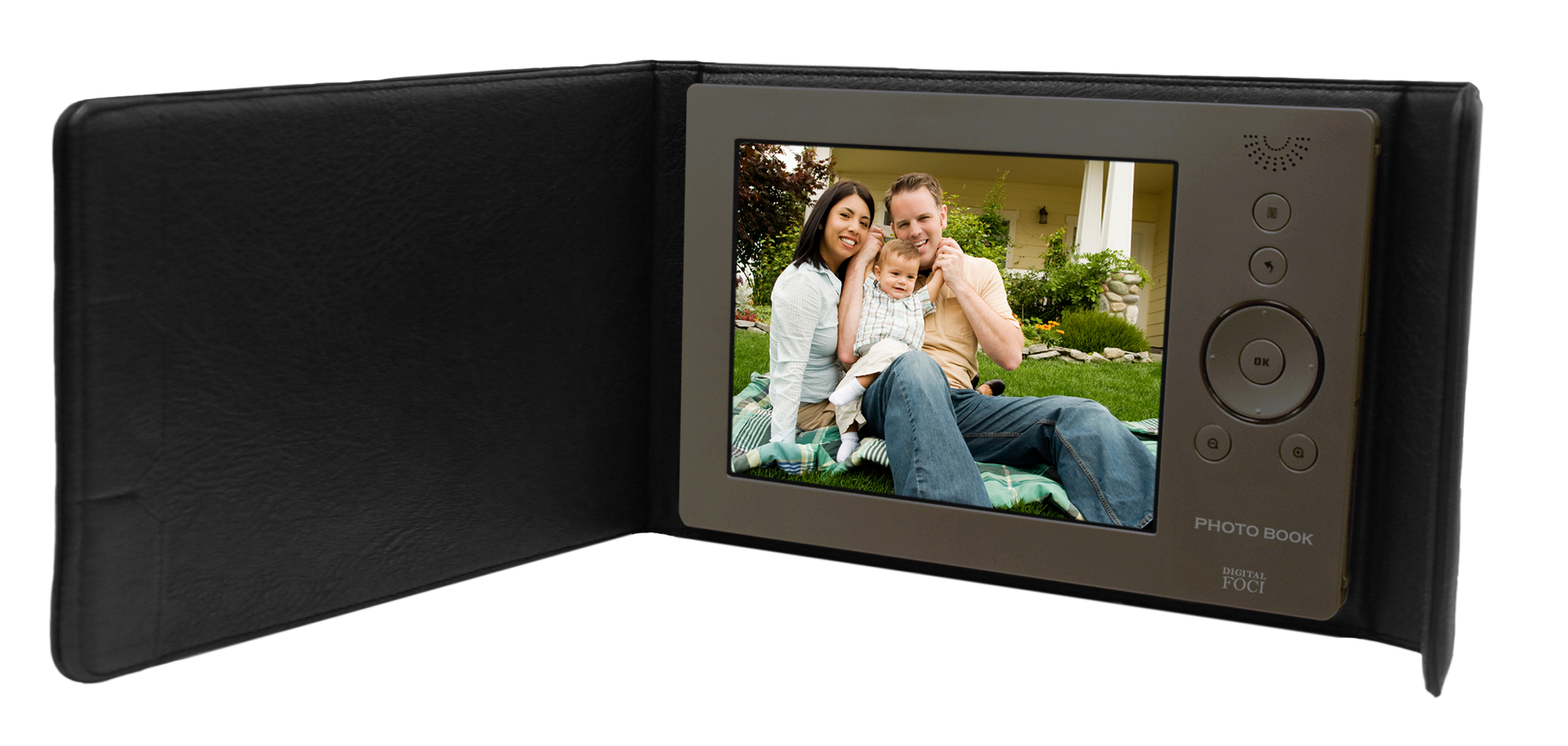 Available at Digital Foci for $189
This recommendation goes for those of you who have very proud fathers who love to show their kids off to everyone, even on the go. The Digital Foci "Photo Book" is just for him, according to the description the Digital Foci "Photo Book," with its black leather-like finish, is a portable digital photo album for fathers to bring along everywhere they go to show off their photo collections to friends, family, and business associates. Ideal for passing around while sitting on the sofa, at family gatherings, or as a professional photo portfolio, Photo Book can be used for over 2 ½ hours on its internal battery, giving dads the convenience to show photos in any setting." It is a little on the pricey side, but could be a great place for your parents to store and display all of their family photos.
The Cheapskate Category
Not everyone goes all out for Father's day, it may be around his birthday or you may be low on cash, so these two ideas are for you.
Available at the BerryScoop store for 4.99
The first is one of my favorite utility apps for the BlackBerry platform will come in handy for almost all Dads, I mean what Dad doesn't like to golf? For just a few bucks you can help him shave a few strokes off his score or just track down exactly what he needs to work on. Via the app description…
Links Scorecard not only has easy-to-use screens to record your golf scores, but has the ability to store any number of courses, keep any number of games, and show statistics of individual games or graph them over any period of time. The screens are very easy to use and allow you to setup courses and their tees ahead of time. With the elegant scorecard screen you can then quickly enter your scores and any other statistics you may want to track.

Links Scorecard also has the ability to keep many statistics to analyze over an individual game or graph over a period of time. The scorecard screen also uses colors with circles and squares around your scores to look just like the professional scorecards.
Last but not least, if you don't have anything specific gift in mind, head on over to our store and pick out a random app or two and a nice accessory. Nothing will make him happier than a grab bag of useful gifts. BerryScoop Store
The White Elephant Category
Some families that I know like to provide some humor on Father's day instead of giving real gifts. It can be a good way to spend an afternoon with everyone and have a good laugh. The TwitterPeek is a perfect gift for such an occasion and @obiegeorge would be very jealous of your Dad if you got him one of these. The TwitterPeek "Puts Smart Phones and Twitter Apps to Shame!" Available at TwitterPeek.com
TwitterPeek's "always on" tweet delivery makes it a snap to follow 100′s of people throughout the course of your day. Best of all, you don't have to spend $100/month on an expensive smartphone data plan to get Twitter on-the-go.
* World's first Twitter device
* Unlimited Tweets
* View Twitpics and read links
* Nationwide Coverage
* Always on
* Full QWERTY Keyword